EXHIBITOR SPOTLIGHT: RENOVATIONFIND
Jan 5, 2023, 20:03 PM
We're excited to have RenovationFind as an exhibitor of the 2023 Ottawa Home & Remodelling Show. Before you visit this innovative company at the EY Centre from January 19-22, please enjoy our brief interview with the RenovationFind team below.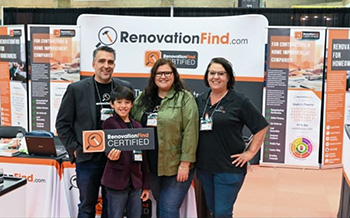 Q. How does your service work?
RenovationFind offers services to homeowners and business owners in the renovation industry. First, we are a free online directory of pre-screened and vetted home improvement contractors, trades, and renovation companies. The companies on our directory have passed legal and financial background checks. We've also checked for a business license, insurance, and WCB coverage. Then, a third-party organization monitors the companies to ensure compliance with our high standards.
Companies that are Better Business Bureau members in good standing have a higher rating on our website. We also monitor for customer complaints and reviews. This process gives homeowners a free resource, relieving the stress of hiring renovation contractors for their home projects.
Second, we offer services to businesses in the renovation industry. We use several digital marketing strategies to promote reputable and deserving companies, ensuring their connection with homeowners in their target market.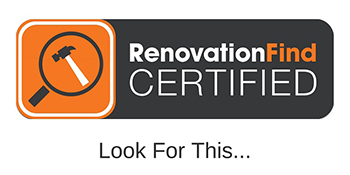 Q. What can we look forward to from you at the Ottawa Renovation Show?
Come see us at the show! Look for the RenovationFind booth and sign up for a RenovationFind membership. When you do, we'll enter you to win $1,000. A RenovationFind Membership offers discounted pricing and exclusive offers from our partner companies in Ottawa.
You can also Post a Project at our booth. Fill out our simple online form with your project details, and we'll send it to three relevant renovation companies in your area. Those companies will receive the details and contact you directly for more information and to create an estimate for the job.
For example, if you want to upgrade your bathroom, we'll send your details to three of the best bathroom renovation companies in Ottawa.. Once you hear back from them, you can choose the company that best fits you and your renovation.
Q. What advice can you offer homeowners?
Never hire a contractor to work in your home until you've done thorough research. Ask for proof of business licensing, liability insurance, and WCB coverage. Without those credentials, you could put yourself and your property at risk. Instead, hire an established company with a positive and proven reputation.
Once you have a short list of companies, check references. Ask to speak to their last three clients. This way, they can't just choose the best jobs for their references. Then, you'll get the best idea of what it's like to work with them.
It's also a good idea to get quotes from more than one contractor. Getting multiple quotes will give you the best picture of your home renovation cost. In addition, they should provide a detailed estimate in writing. Do not accept a verbal estimate or contract.
Q. What inspires your services?
I've been in the renovation industry for many years running a granite company. I was tired of hearing terrible stories about homeowners getting ripped off by bad contractors. We wanted to create a free, data-driven directory that helped homeowners connect with honest and trustworthy companies. Not only does it protect homeowners, but it also helps promote ethical companies and improve the reputation of the renovation industry.
Protecting homeowners, reducing stress, and helping them find trustworthy contractors has been a positive experience.
Q. What is your favourite part of the Ottawa Renovation Show?
We love meeting and chatting with people at our booth. We love connecting homeowners with honest renovation contractors who can help them reach their goals and get the most out of their renovation investment. We understand the stress renovations can cause; removing some of that is rewarding. Plus, we are helping our RenovationFind Certified companies by sending business their way. It's truly a win-win scenario.
Q. Are there any success stories you'd like to share?
We have seen that our services are successful for homeowners and business owners! We collect a lot of data through surveys and other methods. In doing so, we've received feedback from homeowners that they've had positive experiences working with RenovationFind Certified companies. We love getting these first-hand stories of successful projects and positive experiences. So, whether they need a plumber, tile installer, roofing contractor or Ottawa's best general contractors, homeowners are finding them on our site!
The companies listed on our website have also reported positive feedback. We've helped send them qualified leads, gain new business, and increase web traffic and exposure. We also offer digital marketing services that amplify those efforts and bring new business. In addition, companies have said that their RenovationFind Certification has helped them strengthen their brands as trustworthy companies. That is a significant selling point for homeowners.
Q. What can people expect when they work with you?
If you're a homeowner, you can expect to find a verified listing of trustworthy and pre-screened home improvement companies when you need them. We have listings in multiple categories, including Ottawa's best painting contractors, deck builders, landscapers, exterior renovation companies, bathroom and kitchen renovation contractors, interior designers, concrete contractors, and many others.
You can also sign up for a RenovationFind Membership to receive exclusive promotions and discounted pricing from select companies in Ottawa. You can sign up on our website at www.renovationfind.com or at our booth at the renovation show.
For renovation companies, you can expect to increase your online presence and web traffic and build a brand of trust with current and potential customers. We use digital marketing solutions to promote your business in your target market. These services include content marketing, blogs, social media marketing, search engine targeting and optimizing, lead generation, email marketing and more.
We look forward to seeing you at the show!