The Best Advice Bryan & Sarah Tell Their Clients
Jan 9, 2020, 14:57 PM
Building or renovating a home is a complicated process — one that takes time, money and a whole lot of patience. Bryan and Sarah Baeumler offer advice to help you make the right decisions for you and your family.
Building or renovating a home is about building your future. And in both cases, input and advice from experts can be enormously helpful along the way so that you're truly happy with the end result.
Expert home builders and HGTV Canada stars, Bryan and Sarah Baeumler are committed to serving clients with the kind of honest and straightforward advice that's necessary to keep a plan on track and help a vision take shape. Using their expertise — developed from years of experience — they help their clients build or renovate a home that's right for them, their budget and their lifestyle.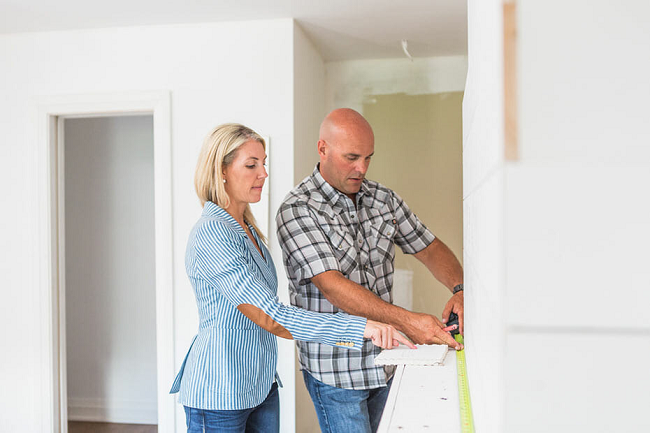 Here are five tips the Baeumlers share to help Canadians renovate or build a home they'll love:
1. Set Your Expectations from the Beginning.
Whether you're renovating your current home or building a home from scratch, it's always easiest when you're dealing with a blank slate — there are so many things you can do, so many ways to make your home fabulous, that the options are virtually limitless. But while you may be tempted to do it all, remember that everything has a price. To avoid running out of cash or cutting corners at the end of your project, it's important to establish your budget before you even draw up the plans.
With well thought-out and realistic financial limits, you will be in position to separate your must-haves from your wish list. As Bryan likes to say, "Dream within your means."
2. Start with the Essentials.
As you envision your new home, you may be dreaming of sleek stone counters, a soaker tub, hardwood floors, and that industrial faucet you saw in a design magazine. Nobody fantasizes about an energy-efficient furnace, double-glazed windows, or wall insulation. But these functional elements — as well as a structurally sound foundation, safe electrical wiring and well-constructed roof — are what's going to make your home functional, sustainable, efficient, and cost-effective to maintain.
"The real value of the home is in the asset. Not what the asset looks like," Bryan is famous for saying. On that list of must-haves and want-to-haves, be sure to prioritize the essential elements of your home over the cosmetics.
3. Work with People You Trust.
Your home is an important part of your life, and your build or renovation is a big investment, so take the time to meet with the people you are thinking of hiring. You need to feel confident in the team building your home — that they have the expertise, all the necessary legal requirements, and a solid reputation.
What's more, it's important to hire people you can get along with. You need contractors you can communicate with, who handle pressure and surprises with confidence, and who you can reach when you have questions or concerns.
"You have to find somebody who works well with you," Sarah says. "That's a really important part of the relationship that people may take for granted. Just because he did a great job somewhere, doesn't mean he's going to do a great one for you."
It's smart to ask lots of questions, request initial ideas and input, and ask for some trade references. Getting insights from people your contractors work with on a regular basis can help establish their ethics, timeliness, and the value they place on relationships.
4. Be Patient.
This is a tough one, because you want your home built as soon as possible. But it's important that you're realistic about you project timelines and trust your contractors — they're the ones who have the best sense of how long a job will take to get it right.
"If I had a cent for every client who had an unrealistic time lines on their project, I wouldn't have to work again," says Bryan. "I understand where this stems from: We all want our new life within those walls, but a project done well takes time. Have a realistic schedule in mind, and if this is something you're currently considering, start talking to professionals and contractors now to get a sense of the time required. Then add 25 per cent more time to what they say, and you'll probably be close to the realistic finish date."
5. Enjoy the Process.
Building or renovating a home is not easy. It can challenge your patience and your emotions. If you're going to launch into this kind of project, be prepared to make the time and financial commitment top priorities in your life so you can enjoy the experience. "I love going through all the stages and seeing the project come to fruition. It's almost like watching the progression of when Sarah and I were having kids. From the day you find out you're pregnant till the baby is born, it's such an interesting process, and the final product is just so mind-blowingly cool," says Bryan.
In building a home, expert advice is vital to the success of the project and long-term confidence in the finished product. The same goes with building a future. And like the Baeumlers, RBC is committed to providing great service and advice to their customers, knowing the very important role it plays in helping them achieve their goals — however big or small.
Diane Amato is a Toronto-based freelance writer who loves to talk about finances, travel and technology.