Affordable Home Decor Hacks To Refresh Your Living Space
Jan 21, 2019, 15:03 PM
It's the smallest touches that add the biggest impact to your home. These décor hacks can solve little dilemmas while elevating your home's style. Do you want a signature piece, but not sure you have the creative confidence to upcycle on your own? Visit the Refreshed Furniture Pop-up Store at The Ottawa Home and Remodelling Show and bring home a professionally restored statement piece for your home!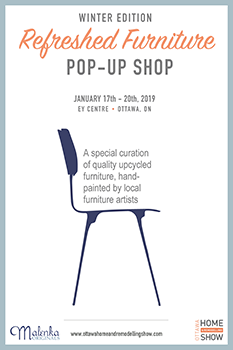 Colourful Accents for the Kids: Do you want to add colour to your child's room, but don't want to paint the walls a bright colour they won't like in a year? Paint the face of their dresser drawers. The pop of colour will add a delightful detail – and won't take much time or money! You can easily change the colours when they change their mind!

All That Glitters: Are you looking to create a more glamourous atmosphere – but aren't sure how? Paint the inside of a lampshade with glitter paint to create a reflective effect. It's simple and easy to do but, has a major impact.

Create Some Space: If you want to make your bedroom appear larger than it actually is, attach framed mirrors to your closet doors – painted to match of course.

Upgrade Your Vanity: Is your bathroom mirror looking a little plain? Why not frame it? Simply buy some molding from your local hardware store, cut it to size, paint it the colour of your choice and attach it! Your new accent piece will be the highlight of your powder room.

Handsome Hardware: Upgrade and customise your furniture by adding an accent piece in the form of a new door handle, knob, or footing with a simple piece form your local hardware store. Simply paint any wood items to match to make your piece completely one-of-a-kind.

Take a Seat: Repurpose old kitchen chairs into a bench, by removing the seats. Screw three planks onto the chairs using deck screws, paint the colour of your choice and add a throw pillow or two to make it super inviting! This is a great addition to a front hall, backyard, or even at the kitchen table.

Refresh Your Kitchen: Revamp your backsplash with a little paint. Simply apply painters' tape in a pattern you like (we suggest a geometric one!) prime and paint. Once the paint is dry, apply a thin coat of oil-based polyurethane to protect it against moisture and scratching and voila! A refreshed kitchen!
The Ottawa Home and Remodelling Show takes over the EY Centre January 17-20, 2019. Don't have your tickets yet? Buy online and SAVE $3.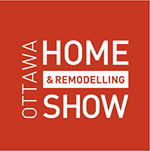 JANUARY 17-20, 2019
EY CENTRE